OPTICAL TRACING SYSTEM
Automatic Shape Cut Device for Diamond Wire Saw
(JPN Patent: 2587795, 2588847, 3159360)
(JPN Utility Model: 3074311)
(U.S. Patent: 5690092, 5732690)
Optical Tracing System is Option to stationary type diamond wire saw (EDW type, SDW type) and gantry type diamond wire saw for auto shape cut.

Also, two models 'Vertical curve diamond wire saw' and 'Verti-1500' have this device as their auto shape cut device.
Shape Recongnition with Paper Template
No operation of PC.
Simple electrical control (use of regular PLC & regular Inverter).

Simple mechanical control (use of regular motor, no servo motor).
---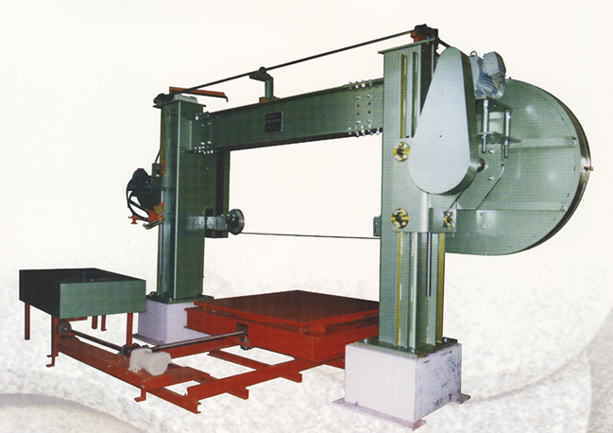 ---
System Work
Place a paper template on the tracing table.
(Paper template can be a photo copy paper cut by a pair of scissors.)
Have optical sensor light the edge of paper template.
Optical sensor follows the edge of paper template automatically.
This optical sensor movement synchronizes machine movement.
So, the machine is cutting as per paper template.
(The ratio, paper template to actual cut size, depends on the type of machine, 1 to 2, 1 to 4, etc.)
---
This picture shows the paper template table. The sensor is lighting the edge of paper template.
This picture shows one of the smaller wire saws with Optical Tracing System.
Optical Tracing System comes with

Optical Tracing Table (Where paper template is placed)
Control Panel For It
Ball Screw Device For Cart Movement

Showing a paper template and cut stone.


(Specifications Example)
---
(C) Ogyu Manufacturing Inc. 1997-2007 All rights reserved.