8 HEAD ROTARY
STONE TOP ( head) POLISHING MACHINE
( AUTOMATIC POLISHER K3 TYPE)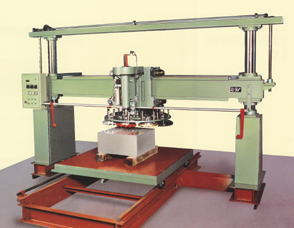 Use: Stone Polishing, etc.
SPECIFICATIONS
Model
Stone Top Polishing Machine K3 Type
Polished Area
6' (Width) x 4' (Depth) x 2.8' (Height)
Movement of Diamond Wheel

Rectangular (Square)
Crank
Zig-Zag

Cart Movement Distance
1450mm
Main Shaft Up-Down Distance
570mm
Pressure To Wheel By Air Cylinder
Maximum 160KG
Number of Diamond Wheel
12" (300mm) x 8 Wheels
Motors

Main 3.7kW
Up-Down 0.4kW
Horizontal 0.2kW
Cart 0.75kW, 1.5kW
Wheel Exchange 0.2kW

Total: 6kW (8Hp)
Size of Machine
Drawing
Specifications may be changed without prior notice.
---
(C) Ogyu Manufacturing Inc. 1997-2007 All rights reserved.